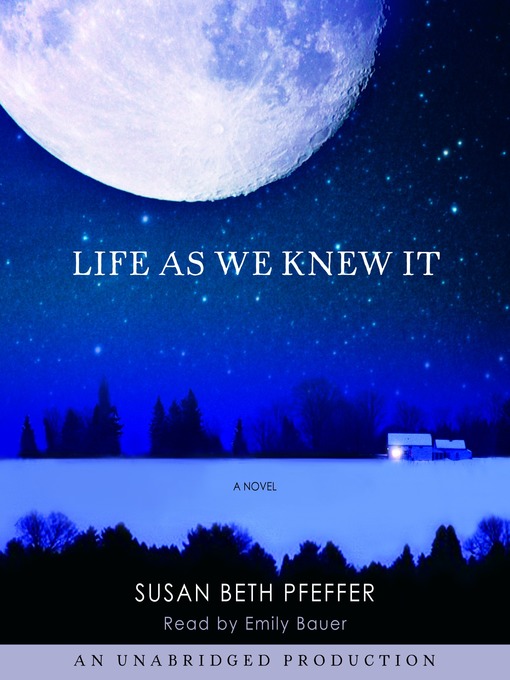 Life as We Knew it
By Susan
Pfeffer
# of pages: 337
Age range: 11-14
Format: diary
When Miranda first hears the warnings that a meteor is headed on a collision path with the moon, they just sound like an excuse for extra homework

assignments

. But her disbelief turns to fear in a split second as the entire world witnesses a lunar impact that knocks the moon closer in orbit, catastrophically altering the earths climate.Everything else in Miranda's life fades away as super markets run out of food, gas goes up to more than 10 dollars a gallon, and school is closed

indefinitely

. But what Miranda and her family don't

realize

, is that the worst is yet to come.
Y: Life as We Knew It was a very different and out there sort of book. Nothing that you predict while reading the book happens, everything turns out unexpectedly.
Miranda is your sort of "average" teen (up until the part with the
uhh
moon collision) living in this scientifically impossible catastrophe. She has a few best friends, but lately they have been going a little
whacked
and acting differently than the best friends Miranda thought she had. This aspect of the novel bothered me. I think it would have been easier to relate to and not so confusing if she had a few normal best friends to help deal with the situation. Little pieces of her regular routine seem to keep her from going crazy, along with seeing her crush.
The ending (of course I won't give it away!) was not what i expected. Throughout the whole book it is just about how the problem is getting progressively worse, in my opinion i found it depressing yet hard to relate to that sort of trauma. You would expect that the conflict would be solved in the end, but it was just Miranda getting used to the new "lifestyle" and realizing how much her family really mattered to her. I could almost but not quite see where she was coming from up until this point. It isn't the sort of thing anyone could become accustomed to because people just don't work like that.
Susan
Pfeffer
could create a sequel to Life as We Knew it, yet i don't think that you would want to continue reading because there is no way to solve the collision therefore resulting in the book to just be depressing and fairly similar to the original story.
Susan also wrote the book in a diary format, which was sometimes annoying (but it is personal preference) because you could feel you didn't know everything that was going on, just the selected details from Miranda.
Overall this was a good idea for a book, but the way in which it was done didn't quite click.
M: Life as we knew is it, is a book that made me think. What
if
that happened to me, what
if
the prospect of starving to death wasn't humorous but real. What if...
Although the book was great for my thoughts I couldn't say that the
characters
were enticing. Miranda bugged me throughout the story, to me it seemed like she couldn't focus in on the situation, couldn't get a grip on her life. Obviously she was put in a difficult situation, but when the author writes in a way that makes you think, you sort of begin to see yourself in the character's position and then question their every motive. In other words: you hate it when the character doesn't do what you would do.
Now of course
that's
just my opinion, someone could have opened this book up, and put it down on the very last page. For me the story was slow, a type of book i could put down and pick up a few days later while I read another book
in between
. I finished it because I felt like I had too, and i certainly wasn't dying for a
sequel
. Over all the book was
okay,
insightful and emotional but without enough twists and plot development to keep the story moving.
If you're a Sarah
Dessen
fan you might enjoy this book
in between
the next Sarah
Dessen
novel. For those of you who need fast paced books with lots of action, to do read this. If you have read this and are looking for similar books these might be of interest.
The Dead and the Gone - Susan Beth
Pfeffer
. :
a companion novel to life as we knew it. A look at life in the city when

disaster

strikes. (

defanitly

promises more action).
The rules of Survival - Nancy
Werlin
The book
Theif
- Markus
Zusak
Sold - Patricia McCormick
Everlost
- Neal
Shusterman
Rules - Cynthia Lord
Songs that work with the story:
Y: Mercy - One
Republic
M: Goodbye to You - Michelle Branch