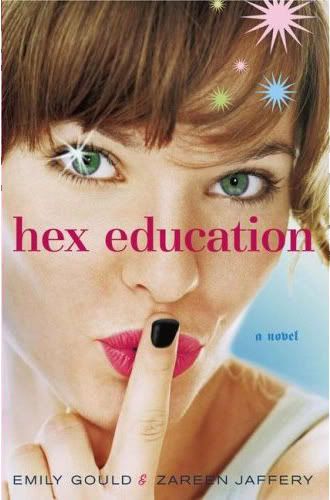 Hex Education
by: Emily Gould and
Zareen
Jaffery


# of pages: 192
Age range: 12 -14


Sophie Stone doesn't want to move from the bright lights of L.A. to the bright lights of dreary little burg of Mythic, Massachusetts.


So why does she feel so strangely drawn to the place?


At least school is a bright spot - Sophie is immediately accepted by the coolest girls at Mythic High - ladies, who definitely know their Levi's from their True Religion.


But what Sophie doesn't know is that her new friends don't buy their couture - they conjure it! They're a coven of witches, formed to save the town from an evil that is rising, an evil that was foretold ages ago. And Sophie is their leader!


Will Sophie embrace her powers in time to save the town from destruction? Or is Mythic totally hexed?
How do i put this nicely? Thank god it was only 192 pages, or, i
should've
put it back on the shelf when i saw the cover? Let me know what you think. Let's start with the cover, shall we? Besides getting odd glances from my teachers - many whom happened to pick up the book and make sure that the H wasn't an S (they're so protective these days) - the title really doesn't work with the story.
Oh, the story, oh, oh, oh. Plot development? There was none. Character development?
nada
. Interest level? I got bored once i found out the main character was a fourteen year old spoiled brat, yeah.

>Ok, so I didn't like the book, sorry for the very, ah, critical review. But...
This book had potential (maybe) but it just fell flat. I felt like the story only took two minutes to write, it was so, I can't describe it, quick? The cover got you all hyped up for some awesome but-kicking teen witches, more like, "Oh-my-God, she so didn't wear that top with those shoes, let's have her hair messed up!"


Yeah...read it at your own will. That's the thing with books who are written with more than one author, like the house of night novels, i kept feeling like the character was switched a lot. Sometimes she would act her age, and other time she would act like she was 11, very annoying.


But, if you happened to like this book, than check out...
I was a non-blond cheerleader -
Kieran
Scott
Poison Ink - Christopher Golden
Hex appeal - Linda wisdom
bras and broomsticks - Sarah
mylnowski


Library, buy or borrow... Library!