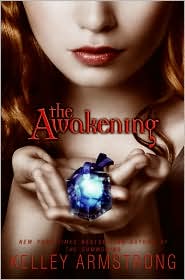 The Awakening
by Kelley Armstrong
# of pages: 368
Age range: 13-16
Rating: 5/5
If you had met me a few weeks ago, you probably would have described me as an average teenage girl—someone normal. Now my life has changed forever and I'm as far away from normal as it gets. A living science experiment—not only can I see ghosts, but I was genetically altered by a sinister organization called the Edison Group. What does that mean? For starters, I'm a teenage necromancer whose powers are out of control; I raise the dead without even trying. Trust me, that is not a power you want to have. Ever.

Now I'm running for my life with three of my supernatural friends—a charming sorcerer, a cynical werewolf, and a disgruntled witch—and we have to find someone who can help us before the Edison Group finds us first. Or die trying.

The Awakening is the sequel novel to The Summoning, by Kelley Armstrong, and if you thought the Summoning was good, you'll love Awakening! The Awakening picks up right where the summoning ended, and then takes off from there without a minute of slowness.

As much as I enjoy a moving deep lengthy novel, it's great to read a fast paced novel filled with action and suspense. The Awakening delivered that and more. Readers will get a chance to see Chloe's relationship with Derek develop, and learn of a betrayal, and maybe new friendship?

Definitely check this book out, and if you haven't read the first book The Summoning, get a move on it and read it!

If you liked The Awakening, check out:
Once Dead Twice Shy: Kim Harrison
Vampire Academy (and following books): Richelle Mead
Strange angels: Lili St. Crow
Ghost huntress: Marley Gibson
Deadly little Secret: Laurie Faria Stolarz
I'd Tell You I Love You But Then I'd Have To Kill You: Ally Carter
The Hunger Games: Suzanne Collins
Gone: Michael Grant
Wondrous Strange: Lesley Livingston

Get The Awakening here
Check out Kelley Armstrong here


-M.