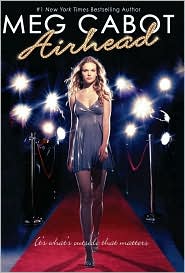 Airhead
By Meg Cabot
# of pages: 352
age range: 13-17
rating: 4.5/5

EM WATTS IS GONE.
Emerson Watts

didn

't even want to go to the new

SoHo

Stark

Megastore

grand opening. But someone needed to look out for her sister,

Frida

, whose crush, British heartthrob Gabriel Luna, would be singing and signing autographs there—along with the newly appointed Face of Stark, teen supermodel sensation Nikki Howard.
How was Em to know that disaster would strike, changing her,and life as she'd known it, forever?
One bizarre accident later, and Em Watts, always the tomboy, never the party princess, is no longer herself. Literally.
Now getting her best friend, Christopher, to notice that she's actually a girl is the least of Em's problems.
But what Em's pretty sure she'll never be able to accept might just turn out to be the one thing that's going to make her dream come true….
Okay, I know Airhead's sequel is already out, a book I have yet to read, but since I'm
in between
reading two books, yes two, I thought that I would do a review of a past book I had read. Now, have you ever read the back of a book, and then gotten a
distinct
image of what the book was going to be like, only to be surprised when the book turns out to be
completely
different than you expected. Well that's what happened to me when I read Airhead.
Being a Meg Cabot fan, I quickly snatched Airhead when it came out and started to read it's new word filled pages. Was I amazed, not really. The first couple chapters were okay, a little slow at most. But then... a totally
unexpected
event happened and instantly the book picked up.
Main character, Emerson Watts finds that she is not longer the smart but plain, one friend only girl, but rather, a supermodel! And I'm not talking about an agent seeing hidden potential or anything, she
literally
is a supermodel, in every way except one.
The story continues when
Emmerson
is thrust into the model's world, meets a few guys, oh and discovers a nasty secret about her "boyfriends" Dad's company. Yeah, the plots good. I
can always
expect Meg Cabot to deliver, and I can't wait to read the next installment in this series!
If you liked Airhead you might want to try:
Being Nikki by Meg Cabot
Jinx by Meg Cabot
Blue Bloods (Blue Bloods, Book 1) by Melissa

de

la Cruz
The

Luxe

by Anna

Godberson
I'd Tell You I Love You, But Then I'd Have to Kill You (Gallagher Girls) by Ally Carter
City of Bones (Mortal Instruments) by Cassandra Clare
Audrey, Wait! by Robin

Benway
Visit Meg Cabot at her website,
here
Check out these other cool covers of Airhead!
- M.