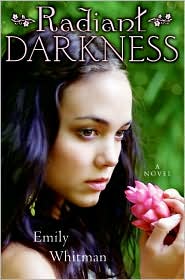 Radiant Darkness
by Emily Whitman
# of pages: 288
Age Range: 13-17
Rating: 4/5
He smiles. "Hello."
It's a deep voice. I can feel it reverberate in my chest and echo all the way down to my toes.
I know I should leave, but I don't want to. I want to keep my senses like this forever. I'm all eye, all ear, all skin.
Persephone lives in the most gorgeous place in the world. But her mother's a goddess, as overprotective as she is powerful. Paradise has become a trap. Just when Persephone feels there's no chance of escaping the life that's been planned for her, a mysterious stranger arrives. A stranger who promises something more—something dangerous and exciting—something that spurs Persephone to make a daring choice. A choice that could destroy all she's come to love, even the earth itself.
In a land where a singing river can make you forget your very name, Persephone is forced to discover who—and what—she really is.
Radiant Darkness was not what i expected it to be, it was a spin on a famous Greek Myth rather than the story the synopsis above implies at. The wring the author used was different than most teen books, I've seen it before, one author that comes to mind is Jessica Day George. So, yes, the story was different but not at all bad, in fact...
Persephone lives with her mother, the Goddess Demeter in a beautiful vale made especially for her, it is a world without men, and for Persephone it has become a prison. In her mother's eyes, she is a child, but Persephone longs to fall in love, grow up, explore the world. So when a handsome stranger visits her in the vale, Persephone eagerly joins him in his kingdom and leaves without thinking about the consequences.
The story was very well played out, the ending tied up all loose ends, and Persephone was a very developed character. But, there's always a but, the love between Persephone and Hades seemed fake. "Fake" may not be the best word to use, but to me I just didn't get the sense that there was a burning love between the two of them. The rest of the story was great, I just wish the romance had been more clear. Oh, and one other thing, the author never mentioned Persephone's age, she was obviously a teenager, but there was never any written words that stated that.
So if you like the whole Gods/fantasy/love thing, this is the book for you. If you like Gail Carson Levine, you should read this. Here are some other books you might like:
Storm Glass by Maria V. Snyder
Fate by Jennifer Lynn Barnes
Ever by Gail Carson Levine
Sun and Moon Ice and Snow by Jessica Day George
Princess Ben by Catherine Murdock
Princess of the Midnight Ball by Jessica Day George
The Swan Kingdom by Zoe Marriot
Should you buy radiant darkness? Well it's a pretty cover, but maybe once it's in paperback, if you are interested though click
here
-M.