Hey guys! Sorry this is a little late, but I was away, and I didn't get any books until today. So here's my book bootie for this week! Oh yeah this is hosted by The Story Siren blah blah blah (jk)
Elena Gilbert is alive—again.
When Elena sacrificed herself to save the two vampire brothers who love her—the handsome, brooding Stefan and the sleek and dangerous Damon—she was consigned to a fate beyond death. Until a powerful supernatural force pulled her back.
Now Elena is not just human. She has powers and gifts that were bestowed on her in the afterlife. What's more, her blood pulses with an overwhelming and unique force that makes her irresistible to any vampire.
Stefan wants to find a way to keep Elena safe so that they can make a life together. Damon, however, is driven by an insatiable desire for power, and wants Elena to rule as his princess. When Stefan is lured away from Fell's Church, Damon seizes his chance to convince her that he is the brother she is meant to be with. . . .
But a darkness is infiltrating the town, and Damon, always the hunter, is now the hunted; he becomes the prey of a malevolent creature that can possess him at will, and who desires not just Elena's blood but her death.
Dead is a State of Mind by Marlene Perez
Welcome to Nightshade, California—a small town full of secrets. It's home to the psychic Giordano sisters, who have a way of getting mixed up in mysteries. During their investigations, they run across everything from pom-pom- shaking vampires to shape-shifting boyfriends to a clue-spewing jukebox. With their psychic powers and some sisterly support, they can crack any case!There's a gorgeous new guy at Nightshade High: Duke Sherrad, a fortune-teller claiming to have descended from Gypsies. Even though she's psychic herself, Daisy is skeptical of Duke's powers. But when a teacher who was the subject of one of his predictions ends up dead, she begins to wonder if Duke is the real deal after all.Maybe if Daisy can track down the teacher's killer, she can find out the truth. The only trouble is, all signs point to the murderer being of the furry persuasion. Is Daisy any match for a werewolf? Maybe she is . . . in more ways than she bargained for!

Dead is so Last Year by Marlene Perez
Something very strange starts happening in Nightshade the summer that the eldest Giordano sister, Rose, gets a job working at Dr. Franken's research laboratory. People are starting to see double. Doppelgängers of Nightshade residents are popping up all over town. Daisy, Rose and Poppy think it's a coincidence, until the rumors start that their father, who disappeared several years ago, has been spotted in town. Meanwhile, Daisy's beau, Ryan is spending all of his time training for football, and like the other guys on the team, he's grown enormous almost overnight. Samantha Devereux's boyfriend's neck has doubled in size since school ended. Could the football players be resorting to extreme measures to win? Between summer jobs, sugar rushes, and beach parties, the Giordano girls get to the bottom of these mysteries and more.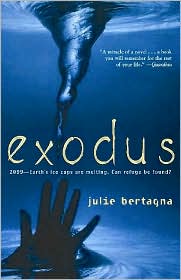 Exodus by Julie Bartanga

It is 2099 - and the world is gradually drowning, as mighty Arctic ice floes melt, the seas rise, and land disappears forever beneath storm-tossed waves. For 15-year-old Mara, her family and community, huddled on the fast-disappearing island of Wing, the new century brings flight. Packed into tiny boats, a terrifying journey begins to a bizarre city that rises into the sky, built on the drowned remains of the ancient city of Glasgow. But even here there is no safety and, shut out of the city, Mara realizes they are asylum-seekers in a world torn between high-tech wizardry and the most primitive injustice. To save her people, Mara must not only find a way into the city but also search for a new land and a new home...

Dull Boy by Sarah Cross

What do you do if you can deadlift a car, and you spend your nights flying to get away from it all? If you're fifteen-year-old Avery Pirzwick, you keep that information to yourself. When you're a former jock turned freak, you can't afford to let the secret slip.
But then Avery makes some friends who are as extraordinary as he is. He realizes they're more than just freaks—together, maybe they have a chance to be heroes. First, though, they have to decide whether to trust the mysterious Cherchette, a powerful wouldbe mentor whose remarkable generosity may come at a terrible price.

So, have you read any of these books, do you want to read any of them? I'd love to know what you think!

Thanks
>-M.