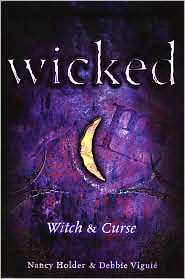 Wicked: Witch and Curse
by Nancy Holder
# of pages: 672
Age range: 15+
Rating: 4/5
Holly

Cathers's

world shatters when her parents are killed in a terrible accident. Wrenched from her home in San Francisco, she is sent to Seattle to live with her relatives, Aunt Marie-Claire and her twin cousins, Amanda and Nicole.
In her new home, Holly's sorrow and grief soon give way to bewilderment at the strange incidents going on around her. Such as how any wish she whispers to her cat seems to come true. Or the way a friend is injured after a freak attack from a vicious falcon. And there's the undeniable, magnetic attraction to a boy Holly barely knows.
Holly, Amanda, and Nicole are about to be

launced

into a dark legacy of witches, secrets, and alliances, where ancient magics yield dangerous results. The girls will assume their roles in an

intergenerational

feud beyond their wildest imaginations...and in doing so, will attempt to fulfill their shared destiny.
I got this book on one of my B and N
run's
,
mainly
because the book was hardback, 672 pages, and $8!!! Which was totally worth in in my
opinion
. Despite the fact that the book was so large, I managed to finish it in three days, and was eager for the next two books in the series, Legacy and Spellbound.
Wicked: Witch (it's two books in one) started of with Holly
Cathers
out on a white water rafting trip with her parents...and then
disaster
struck. From that point on I was a little
confused
, mainly because the book alternated between many different people's point of views, even if only for a short time. And then there was this whole dream thing/ past memories going on, but, it all eventually explained itself and I was a-okay.
Wicked: Witch
and
Curse both had a lot of
intrigue
, and each ending left me wanting more. I was surprised though by how "wicked" the book really was, there was so much death and destruction, it made me realize how much of a safe bubble I live in, and how easy it is for that bubble to pop.
So, I will
definitely
be picking up the
sequel
, and eventually third book in this series, though right now I'm swimming in books that I need/want to read, so it might be awhile. In the mean time, if you like this book, then you
souled
check out:
Swoon: Nina
Malkin
Revealers
: Amanda
Marrone
The Secret Circle: L.J. Smith
Vampire Academy: Rachelle Mead
The Vampire Diaries: L.J.
Smtih
Evernight
: Claudia Gray
You can buy this book (for 7.99!) on amazon
here
Visit author Nancy Holder
here
-M.