In My Mailbox (10) Hosted by Kirsti at the Story Siren!
For Review:
The Day the Falls Stood Still
Steeped in the intriguing history of Niagara Falls, this epic love story is as rich, spellbinding, and majestic as the falls themselves.
1915. The dawn of the hydroelectric power era in Niagara Falls. Seventeen-year-old Bess Heath has led a sheltered existence as the youngest daughter of the director of the Niagara Power Company. After graduation day at her boarding school, she is impatient to return to her picturesque family home near Niagara Falls. But when she arrives, nothing is as she had left it. Her father has lost his job at the power company, her mother is reduced to taking in sewing from the society ladies she once entertained, and Isabel, her vivacious older sister, is a shadow of her former self. She has shut herself in her bedroom, barely eating--and harboring a secret.
The night of her return, Bess meets Tom Cole by chance on a trolley platform. She finds herself inexplicably drawn to him--against her family's strong objections. He is not from their world. Rough-hewn and fearless, he lives off what the river provides and has an uncanny ability to predict the whims of the falls. His daring river rescues render him a local hero and cast him as a threat to the power companies that seek to harness the power of the falls for themselves. As their lives become more fully entwined, Bess is forced to make a painful choice between what she wants and what is best for her family and her future.
Set against the tumultuous backdrop of Niagara Falls, at a time when daredevils shot the river rapids in barrels and great industrial fortunes were made and lost as quickly as lives disappeared, The Day the Falls Stood Still is an intoxicating debut novel.
From the Library:
The Chosen One:
Thirteen-year-old Kyra has grown up in an isolated community without questioning the fact that her father has three wives and she has twenty brothers and sisters, with two more on the way. That is, without questioning them much---if you don't count her secret visits to the Mobile Library on Wheels to read forbidden books, or her meetings with Joshua, the boy she hopes to choose for herself instead of having a man chosen for her.
But when the Prophet decrees that she must marry her sixty-year-old uncle---who already has six wives---Kyra must make a desperate choice in the face of violence and her own fears of losing her family forever
.
Skin Hunger:
Sadima lives in a world where magic has been banned, leaving poor villagers prey to fakes and charlatans. A "magician" stole her family's few valuables and left Sadima's mother to die on the day Sadima was born. But vestiges of magic are hidden in old rhymes and hearth tales and in people like Sadima, who conceals her silent communication with animals for fear of rejection and ridicule. When rumors of her gift reach Somiss, a young nobleman obsessed with restoring magic, he sends Franklin, his lifelong servant, to find her. Sadima's joy at sharing her secret becomes love for the man she shares it with. But Franklin's irrevocable bond to the brilliant and dangerous Somiss traps her, too, and she faces a heartbreaking decision.
Centuries later magic has been restored, but it is available only to the wealthy and is strictly controlled by wizards within a sequestered academy of magic. Hahp, the expendable second son of a rich merchant, is forced into the academy and finds himself paired with Gerrard, a peasant boy inexplicably admitted with nine sons of privilege and wealth. Only one of the ten students will graduate -- and the first academic requirement is survival.
Sadima's and Hahp's worlds are separated by generations, but their lives are connected in surprising and powerful ways in this brilliant first book of Kathleen Duey's dark, complex, and completely compelling trilogy.
Wherever Nina Lies:
Nina was beautiful, artistic, wild . . . and adored by her younger sister, Ellie. But one day, without any warning, Nina disappeared. Two years later, Ellie can't stop thinking about her sister. Although everyone else has given up hope that Nina will return, Elile just knows her sister is out there, somewhere. If only Ellie had a clue where to look. And then she gets one, in the form of a mysterious drawing tucked into the pages of a book. Determined to find her sister, Ellie takes off on a crazy, sexy, cross-country road trip with the only person who believes she's got a chance -- her hot, adventurous new crush. Along the way, Ellie finds a few things she wasn't planning on. Like love. Mysteries. Lies. And something far ore shocking -- the truth.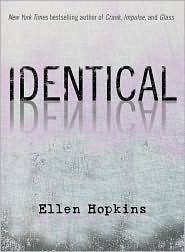 Identical:
Do twins begin in the womb?Or in a better place?
Kaeleigh and Raeanne are identical down to the dimple. As daughters of a district-court judge father and a politician mother, they are an all-American family -- on the surface. Behind the facade each sister has her own dark secret, and that's where their differences begin.
For Kaeleigh, she's the misplaced focus of Daddy's love, intended for a mother whose presence on the campaign trail means absence at home. All that Raeanne sees is Daddy playing a game of favorites -- and she is losing. If she has to lose, she will do it on her own terms, so she chooses drugs, alcohol, and sex.
Secrets like the ones the twins are harboring are not meant to be kept -- from each other or anyone else. Pretty soon it's obvious that neither sister can handle it alone, and one sister must step up to save the other, but the question is -- who?
Ash:
In the wake of her father's death, Ash is left at the mercy of her cruel stepmother. Consumed with grief, her only joy comes by the light of the dying hearth fire, rereading the fairy tales her mother once told her. In her dreams, someday the fairies will steal her away, as they are said to do. When she meets the dark and dangerous fairy Sidhean, she believes that her wish may be granted.The day that Ash meets Kaisa, the King's Huntress, her heart begins to change. Instead of chasing fairies, Ash learns to hunt with Kaisa. Though their friendship is as delicate as a new bloom, it reawakens Ash's capacity for love-and her desire to live. But Sidhean has already claimed Ash for his own, and she must make a choice between fairy tale dreams and true love.Entrancing, empowering, and romantic, Ash is about the connection between life and love, and solitude and death, where transformation can come from even the deepest grief.
-M.